Unusual Hotels NYC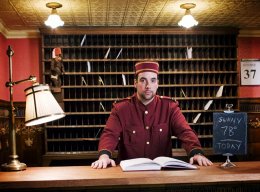 New York is easily one of the world's most exciting cities and with its strong art and design scene, many hotels in the Big Apple are nothing short of spectacular. If you're planning a trip and want to find a unique place to stay, here are our Top 10 cool and unusual hotels in New York. All the accommodation on our list puts an extra effort into making your stay far more interesting, whatever your budget…
CitizenM Hotel – funky, fun and full of colour
This hugely popular Dutch hotel group brings its own brand of affordable, cool luxury to New York. Funky, edgy with a very liberal use of colour in the decor – this NYC hotel is anything but boring. Located in the city central hub Times Square, all of the bright glossy rooms feature free movies, Wi-Fi, a rain shower, huge windows, a comfy king-sized bed and a cool MoodPad gadget – a touch-screen device which allows guests to control the room's impressive array of electronics. Also make sure you have a cocktail or two on their impressive rooftop bar.
Night Hotel – dark, glamorous and edgy
If you've had your fill of minimalism and prefer your hotels to be dramatic and glamorous then try Night – a gothic themed boutique hotel located in Times Square. The stylish noir-inspired monochrome design really sets this hotel apart and is perfectly located for visits to the fashionable theatre district. Each of the 72 sleek, chic and intimate rooms come complete with a plasma TV, an iPod stereo system and of course their signature knock-out decor.
The Gershwin Hotel – arty shabby chic
You don't have to love pop art to stay at the trendy Gershwin Hotel but it might help. Each floor is decorated with prints from a different artist and two original Liechtensteins and a signed Warhol soup can adorns the colourful lobby. Dormitories where beds go for an extremely reasonable $40 a night are located on the lower floor and on most nights music, comedy and theatre performances are available in the Gershwin's "Living Room" – a communal space which also doubles as a cool gig venue.
YOTEL New York – futuristic Japanese style
You dine at YO! Sushi now you can stay at the hotel. Fun, funky and highly innovative just like the Japanese culture which inspired it, YOTEL is a great NYC accommodation choice for the young at heart. Located in lively Times Square, the hotel aims to offer a first-class hotel stay without the designer price tag – think space age minimalism and futuristic technology. Cabins feature motorised beds (which transform into sofas), a techno wall with flat screen TV, a work desk with iPod connectivity, free WiFi and local phone calls. Other fun features include an automated check-in and a self-service galley on each floor.