Hilton Hotels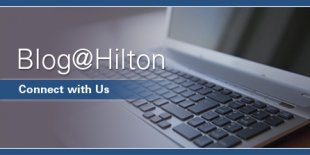 Welcome, blogger! Thanks for visiting. We're glad you're here! Each day thousands of travelers check into our hotels and journalists, writers and bloggers from around the world check into the Hilton Global Media Center. We created Blog@Hilton to share some tips for how to best engage with Hilton...
Photos, Info and More
The Hilton Global Media Center provides access to information about our hotels, history, products and services and more. You also have access to a library of thousands of images of our hotels around the world and videos you can use in your posts.
Requests for Interviews
Hilton is a dynamic global brand. We're more than an iconic hotel brand; we're also one of the world's largest spa providers and restaurateurs. When you need an expert on almost anything – from health and wellness to technology, meetings and events, marketing, brand culture and training, think of us. Our Hilton Team Members can be made available for interview via phone and email. Blog@Hilton
Tweet, Like, View
Follow Hilton Hotels & Resorts through our official social media channels:
Press Stays & Rates
Media accommodations are provided at the discretion of our individual hotels and based on availability. Although we can't control individual reservations, we encourage properties to assist working members of the media if conditions allow. Bloggers should follow all FTC regulations and fully disclose any reduced rates or complimentary stays.