The Radisson Hotel Aruba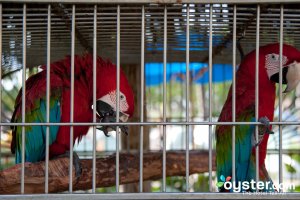 But there is a down side to the exotic atmosphere. Guest rooms are scattered across three buildings - the main Aruba Building, the partially attached Curacao Wing, and the completely separate Bonaire Tower. All three are connected by garden paths winding over brooks and miniwaterfalls. Pretty? Yes. But it's also a breeding ground for mosquitos. Pile on the bug spray.
On Palm Beach, sandwiched between the Riu and the Occidental resorts, the Radisson is in a line of beachside hotels. On the water, the resort is near the De Palm Pier. There, guests can kick back, get a drink, and take a speedboat for a spin (I recommend doing these things in reverse order).
Just outside the resort, Gianni's Italian restaurant and Danielle Steak and Chop share a building on the other side of the street. There's a strip mall, Arawak Garden, half a block down the street. It houses Soprano's Piano Bar, Tango Argentine Grill, Fishes and More, and Salt and Pepper.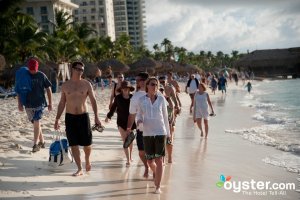 The hotel is a 10-minute drive from Oranjestad. Hop in a cab, or save some cash by just waiting for the bus that comes by about every 20 minutes. There's a bus stop right by the Radisson's entrance.
The Radisson shares its beach with other resorts, so it can get busy. Guests should check out the sunset cruises.
The Radisson shares its popular beach with several other oceanfront hotels, like the Riu and Occidental resorts. Guests should plunk down on the first free seat they see, as the beach tends to get busy.
Apart from the standard smattering of water-sport kiosks, this beach's greatest asset is De Palm Pier, a long, wooden gangway into the ocean. The pier has a lively bar at its very tip. You can nosh on some quesadillas at the bar and then catch a sunset cruise around the coast.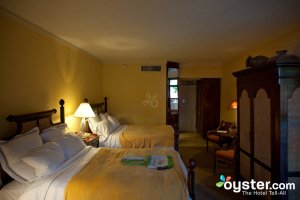 Guest rooms got a facelift in 2011, and now feature comfy beds and large flat-screen TVs
Rooms received a bit of a facelift during the 2011 renovations. New bedding and linens, as well as new Simmons Luxury Plush EverNu mattresses are now featured in every room. 42-inch plasma TVs, iHome clock radios, and computerized climate control systems and dehumidifiers are standard in every room category, too.
The Radisson has two large pools. Like a wavy exclamation mark, the winding lagoon and the circular pool at its tip are separated by a slim walkway to the beach.
Tip: The line for towels can get pretty long in the midafternoon. Save yourself the hassle and bring one down from your room.
Large, modern gym with windows that look out over the water and a great mix of cardio and weight-training equipment. It's free for guests, as are the saunas and steam rooms in the adjoining spa.
The Larimar Spa is a beautiful flagship facility with nine treatment rooms, saunas and whirlpools, plus salon services. It's the first in a chain that's set to open at the Radisson's hotels worldwide. In-room massages can be booked at the spa, too.
Cell phone rental at front desk.
Valet and self-parking (free) available