Strange Hotels in Florida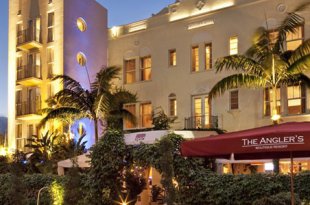 Florida's coastlines are cluttered with massive resort-style hotels, many of them chains, and draw little inspiration from their unique landscape, whether it's South Beach's vintage urban charm or the rugged, unspoiled setting of the state's panhandle. On your next Florida jaunt, opt for a stylish, small hotel instead, for a genuine slice of intimacy at a posh, quiet retreat. Here are five not-to-miss boutique hotels, from Key West to Amelia Island, and many points in between.
The Angler's
South Beach
With just 45 spacious rooms—some touting an outdoor hot tub or a two-floor, loft-style layout—The Angler's is a sweet spot on Washington Avenue, set just a few blocks off of buzzing Ocean Drive. The smallest accommodations are a spacious 450 square feet, and all are a quick walk to the pool, where you can relax under a cabana and enjoy table service. Massages can be booked in your room, and free Wi-Fi is available property-wide.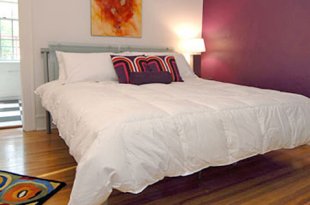 Insider Tip: At 660, the hotel's restaurant offering Latin-fusion small plates and a spectacular by-the-glass wine list, dine indoors amid decor imagined by the late Gianni Versace's interior designer. Its Saturday brunch—also offered Sunday—is the only one in South Beach.
Hotel Ranola
Sarasota
This nine-room hotel on the state's Gulf of Mexico side sports a mod design, from the purple and gold ornate entrance to the geometric-patterned rugs and black-and-white bathrooms in each room. Also in each unit: free Wi-Fi and an iPod docking station, full kitchens, plus pillow-top mattresses and high-end bed linens.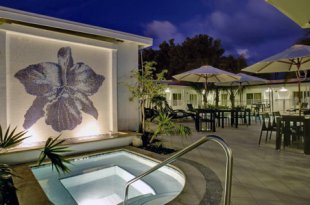 Tucked into a former apartment building dating back to the 1920s, you'll swear you're staying at a friend's place—and not a hotel.
Insider Tip: To maximize your full kitchen, walk three blocks to Sarasota's farmer's market on Saturday mornings. Next up: a gourmet, farm-fresh lunch in the comfort of your room.
Orchid Key Inn
Key West
Staying at the 24-room Orchid Key Inn—a mid-century white building with a retro purple-lit sign out front—puts you in the heart of the action in funky, laid-back Old Town Key West, alongside Hemingway's former home and the historic lighthouse, both just a block away. Back at the inn is an intimate and luxurious vibe, with brick paths and tropical landscaping throughout, and custom-built furnishings and Terrazzo marble flooring in each room.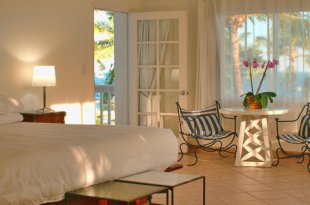 Expect a quiet poolside atmosphere. Rates include complimentary breakfast and Wi-Fi.
Insider Tip: Skip the local bars and opt for happy hour at the inn, which is held every night at sunset and of no cost to guests.
Casa Morada
Islamorada
Break away from the Florida Keys' signature kitsch, but still remain close to the tiki bars and beaches, when you book a room at the 16-suite upscale Casa Morada. Suites are divided between the lushly landscaped Sea View House and Garden House, with its Florida Bay views, and include extras like free Wi-Fi, yoga classes, use of kayaks, paddleboards, and snorkeling equipment, and daily breakfast.
bridgewater hair
olive party dress
trending music app
astrology cafe virgo
dresses near me
kinds celestial bodies
trend water
price science
trend oil
haircut kids
trend art
lifestyle table
scientific method definition for kids
trending memes tumblr
haircut long
trending hashtags on instagram today
dresses for women
a lifestyle
best street style outfits women
day trend
francesca's red dress
street fashion outfits
vibe hair and salon
boy haircut
astronomy solar
the mud house coffee
culinary coffee
top dress sites
haircut list
sales trend
hairstyles for medium hair men
coffee maker with frother
fashion 30
glycolysis equation
current lifestyle
12-month mindset to nso
digital astronomy
lifestyle skills
trend city
professional science experiments
facebook removing trending
fashion tips ideas
trending stocks yahoo
first trend
the science of
fashion in you
lu bingwei
astronomy test 2
blue astronomy
trending music right now
coffee and cafe
saturn star in sky
13 trends
astronomy basic
lifestyle 15
astronomy project
table from the side
science buddies physics projects
where is the coffee
right lifestyle
of science
what is coffee
whats a scientific method
constellations
science do now
science to you
science friday podcast
this is our science
lifestyle land
fashion island
twitter leak
kick back hair affair
good hashtags on instagram
coffee near me now
describe number of atp used quizlet
future astronomy
down to a science
royal astronomy
stars and stripes forever chords
coffee branch real
coffee and people
scientific method in social research
coffee line
trend care
the 8 scientific method steps in order
haircut show
trending hashtags 2019
trend inc
what to wear to a bridal shower
fashion style guide pdf
lifestyle card
element of the scientific method
world trend
oil trends
dream maker dress
fashion full
science oil
lifestyle credit
astronomy plus
trends too
premier cuts danvers
science to
google lifestyle
astronomy months
coffee man
cafe in mcgregor tx
coffee
side cocktail table
buzzfeed most powerful photos of the week
haircut by
the traditional haircut
what are some trends
coffee food
is astrology a real science
coffee machine
black astronomy
lifestyle 2010
what in coffee
by science
vip coffee
people and coffee
end science
11 science
madison nj salon
new trends are
what's science
science of the time
lifestyles of the rich and famous robin leach video
astronomy theme
wood low table
trends of 2014
do fashion
cellular respiration oxidizing agent
unique lace midi dress royal and classy designs
7 pm sky
list of hairstyles for long hair
mens haircut hayward
why do science
and coffee for all
9 fashion
in trends 2015
area coffee
up for a coffee
haircut girl
stars and stripes forever marine band
science doing
where to buy maps coffee
joe haircut
astronomy trip
he science
coffee cup warmer
coffee shops near metro center
haircut self
fashion of the
8 coffee
coffee game
haircuts for women over 50
scientific processes of inquiry
scientific method steps history
ma in science
stars in the sky today
lifestyles unlimited san antonio
when was the lynx constellation discovered
astronomy events
science experiments for kids 4-6
trend news
cv astronomy
hair services on site in south san francisco
science post
haircut home
haircuts 2017 women
data in science
leavenworth coffee shop
astronomy to go
trend id
tales of series thank you meme
fashion in 2014
do it yourself science
science center seattle