Strange Hotel rooms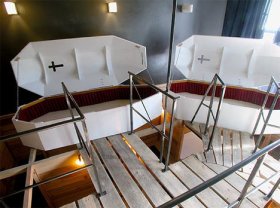 [above: the upside-down room from the Propeller Island Hotel]
Ever wonder what it would be like to live upside-down, sleep like a vampire or break out of prison? More and more hotels are breaking out of the tradition of cookie-cutter rooms and are moving toward unique one-of-a-kind artist-driven room designs. Here are sixteen such rooms that span the spectrum from clever and kitchy to sexy and surreal. Even though some may look uncomfortable, unusual or downright freakish at least they aren't among the 7 tiniest hotel rooms in the world. See more here: 70+ Amazing Theme, Castle, Jail and Art Hotels.
Watching horror movies one has to be a little bit curious about whether it is comfortable for vampires to sleep in attic coffins. Now those who are so inclined (or who prefer partying at night and sleeping during the day) can experience this vampire room first hand at the Propeller Island Hotel.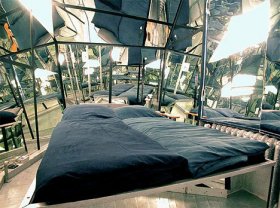 Prefer something less kitchy and more romantic? Perhaps the mirror room of the same hotel is for you. Mirrors are typically considered an erotic addition to a hotel room but this example carries the principle to the extreme with wall-to-wall and floor-to-ceiling mirrors spanning the diamond-shaped space.
Mirrors too cliche and traditional for your tastes? How about a room with elegant furnishings and also complete with not one but two cages. Perhaps the most amazing (and strange) aspect of this particular room is the option to lift curtains and put on shows for one's neighboring guests.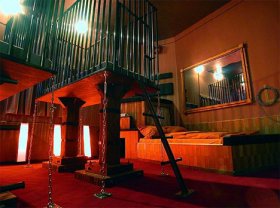 Up for more of an adventure? One room is outfitted as a surrealistically colored jail cell reminiscent of a cartoon lockup. At the end of the night, guests are encouraged to 'break out' of the room by punching and escaping through a hole in one false wall.
The symbol room might be more appropriate for the reserved and intellectual clientele. With over 200 unique wood panels, this room provides endless black-and-white food for thought as well as arrangeable furniture objects that can be turned over and moved to create personalized configurations.
The Arte Luise Kunsthotel (or Art Hotel) is also located in Berlin but takes less of a themed approach, with a variety of rooms that are the unique realization of singular artists' visions. As you can see from the images above, some of them are abstract, others playful and still others simply bizarre. Best of all, each time someone stays in one of these creative rooms the artist gets a percentage of the payment.
Popular Q&A
What is the Horror movie where man gets stuck in strange hotel room
Stephen King based thriller "1408" features skeptical writer Mike Enslin (John Cusack), evaluates supernatural phenomena in hotels and other haunted places. He discovers you can check out of 1408, but never leave alive.
Strange things left behind in Hotel Rooms ? | Yahoo Answers
I ran a hotel and people leave stuff all the time. I've found a set of teeth, A vibrator, clothes, shoes, childs pushchair. You name it, I'm sure I've had it in my lost property box!