The Marriott Hotel at the Buttes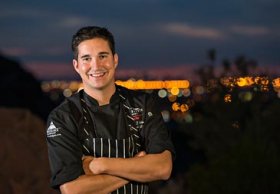 Executive Chef Gregory J. Wiener
An alumnus of The Culinary Institute of America in Hyde Park, New York, Executive Chef Gregory J. Wiener embraces all the opportunities provided at The Buttes, A Marriott Resort. He brings to the kitchen 19 years of experience and a unique style of European, Mediterranean and Regional American cuisine, as well as an awe-inspiring passion for people and food.
Chef Wiener's vision is to serve balanced meals that are personalized for each guest. No request is too large or small. Seasonal organic ingredients are highlighted, and flavors are drawn across the board. In a short period, Chef Wiener has transformed the property's restaurants and the culinary team into an interwoven tapestry with the resort's guests, striving to exceed everyone's expectations.
Popular Q&A
What is the number for the Hilton Hotel in Chicago?
Hilton 10 E Grand Avenue, Chicago, IL 60611. Phone: (312) 670-2296. on!