Strange Hotels Pennsylvania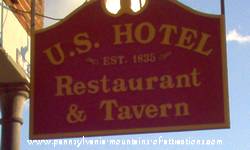 The U.S. Hotel located in historic Hollidaysburg is known through Central Pennsylvania as the mysteriously haunted hotel. Built back in 1835 this historic location has it's own history, along with legends and ghost sightings.
The original hotel was built in historic Hollidaysburg, PA, by John Dougherty, in 1835.
Although the U.S. Hotel has had many owners since it was built, many of the original unique fixtures are still in place.
You will literally step back in time when you enter the historic U.S. Hotel. For instance, when was the last time you have seen a spittoon running along the base of a bar? I doubt if anybody uses it to spit in anymore but it does add a unique backdrop to days-gone-by.
The Ghost Research Foundation, a group of Paranormal Investigators from Bedford County, has been to the U.S. Hotel many times to investigate the many testimonies of customers, tenants, and the owners of this haunted hotel.
After spending the night on several occasions they have witnessed strange and spooky paranormal incidents. One incident actually sent one of the investigators screaming and running from the upstairs bedroom and refused to return.
With four eye witnesses, three paranormal investigators and one of the U.S. Hotel owners, there was no doubt a apparition was laying across the hotel bed.
Investigator and writer of paranormal stories, Patty Wilson & Scott Crownover, described the apparition as being a young woman with tangled chestnut colored hair. She was withering in pain and holding her head. She vanished within moments of the investigators finding her.
That same night another paranormal investigator suddenly screamed to everybody, "Run, everybody out of here now!" He later explained seeing a shadow of a man step into the light, the man was carrying an ax!
This was just one night of many testimonies about the Central Pennsylvania haunted hotel, read on, it's all interesting, very mysterious and a bit creepy.
Do you have a Pennsylvania Ghostly Tale, Paranormal Picture or know of a Haunted Place in Pennsylvania to tell the world about? Just click on this link and start writing.
Testimony of Ghostly Woman
Hovers Footless Above Floor
This is one of the ghostly tales from a book Titled:
"Boos & Brews"
Written by: Patty Wilson & Scott Crownover
Pennsylvania Writers and Paranormal Investigators
Karen Yoder, has owned the famous U.S. Hotel since 1994. The building is primarily a restaurant, bar, and banquet facility.
Although, there is one brave tenant in the historic haunted hotel. The tenate has reported seeing a ghostly woman hovering near the doorway of his room.
When the building was first under renovation in the early 1990s one of the contractors, who was staying at the hotel, apparently awoke to see a woman dressed in a white gown hovering footless above the floor.