Strange Hotels East Coast USA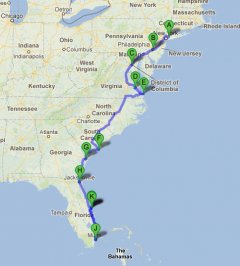 Our road trip route, from New York to Florida
Carrentals.co.uk pointed me in the right direction by letting me know Hotwire would be our best option for hiring a car. So for a minivan for 2 weeks at $523 we were pretty excited to be starting our road trip down the east coast of USA.
It was only about 2 days prior that we had decided to drive from New York to Florida. We didn't know what was in between, but after our 10-hour San Diego-to-Vegas drive we knew we only wanted to do roughly 3 hours per day. We started asking around and researching and came up with a plan.
The early day was spoiled when, at 11am after 45 minutes to drive to La Guardia Hertz to pick up my new car, I had forgot to bring my drivers license. Thank God they allowed my husband to email a copy, because that would have been a bummer to return home to retrieve.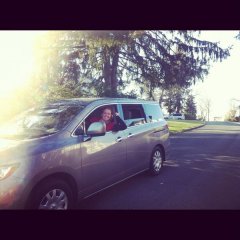 After all the kafuffle we finally made it out of there and I drove back to in Great Neck to pick up my family and our things.
The Nissan Quest is a great size car with 3 large suitcases, 3 small suitcases, and 2 prams fitting in the boot once the back seats were laid down. Then the middle seats are actually separated with a cup holder so the kids could have their drinks readily available and their toys and snacks. We had brought a car seat in New York while using our relative's car and their housekeeper had generously donated a booster for Mia so we were set to jet.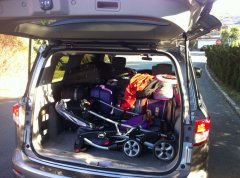 Driving in the US is so much harder than even driving in crazy Bali. Not only do they drive on the wrong side of the road, so veering to the right is habitual, but they use miles to calculate distance and they use galloons to fill up with petrol gas.
Day One
New York to Philadelphia – pit stop at Princeton University
2:30pm – 7:30pm=5 hours
139.2 miles
3 tolls - $6.40, $7.55 & $5=$19.05
After packing and all the goodbyes we finally started our road trip at 2:30pm. It was a fairly long and tiring journey since we started so late. The one excitement I got was when I realized we were passing Princeton so we stopped, turned around and got some glorious photos of the beautiful university. Including the charming houses that lined the streets.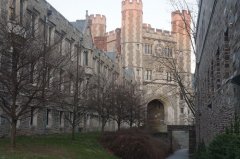 Josh had found a hotel on Trip Advisor and when we rocked up to Philadelphia it was shut. We then drove to the Old City to a Holiday Inn, which wanted over $170 for the night excluding parking & breakfast. We knew we could do better and finally Expedia came up with a place called Skyview Plaza at $75 for the night including parking & breakfast.
The hotel said it usually takes 45 minutes to process an Expedia booking once we got there so we went across the road to the Peking Inn for Chinese dinner. The food was cheap and there was a lot of it.
Popular Q&A
Where can I find a hot springs near the east coast USA?
There's a few natural hot springs in the Allegheny mountains of West Virginia and Virginia. You might try Berkeley Springs, WV, or the Homestead Spa in Hot Springs, VA. Close to the famous Homestead Resort, the Jefferson Pools is Virginia's oldest spa structure and was were Thomas Jefferson took the waters in the 1800s.
What states are on the east coast of USA?
Major metropolitan areas of the eastern seaboard include the cities and surrounding areas of Boston (MA), Portland (ME), Providence (RI), Hartford, New York City (NY), Newark (NJ), Philadelphia (PA), Wilmington (DE), Baltimore (MD), Washington, D.C., Richmond (VA), Raleigh (NC), Atlanta (GA), and Orlando (FL).